Music:
TO WONDERLAND  (mp3 on soundcloud, streaming & free download)
Notes from a Typewriter Musician
…with music of To Wonderland, highlighting the first four (or so) minutes of a live 52-minute film score performance by RPM Orchestra during a screening of surreal silent classic Alice in Wonderland (1915), at downtown Phoenix's Icehouse Arts (known internationally as a showcase for the avant-garde) with 60+ in attendance in the White Column Room microcinema.
Typewriter model played:
example of a 1940s Royal Typewriter (compact model)
"This 'portable' typewriter was very common in newsrooms (that's newspaper newsrooms) all through the 40s. The machine is durable and small compared to other typewriters of the day. Still, the thing weighs probably 20 lbs or so." 
-photo & description courtesy of G. Tom/ImaginaryColours on Flickr-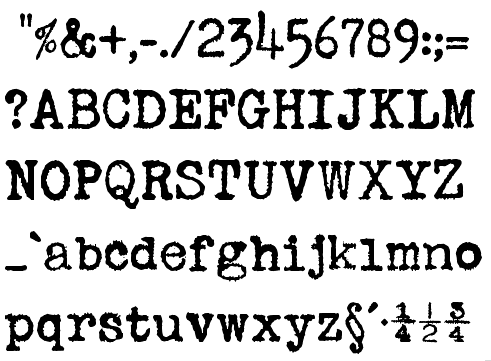 Manual Typist Music Notes:
The 40s Royal Compact is a sturdy all-purpose instrument. Like most Royal manuals, it has amazing flexibility-of-keystroke, offering the typist a wider range of sound (with variable speed/strength of stroke and finger placement) than other manuals on the market.
As with all such instruments, external microphone placement is very important, so it's recommended to always include a "soundcheck" – from first typewriter keystroke (with full band/orchestra) to venue P.A.  - in the live setting itself. Sometimes the difference between the manual-typist being heard, and not, comes down to a fraction-of-an-inch repositioning of the mic.
The 40s Royal Compact itself works best with ambient musical accompaniment versus, for example, the more robustly bombastic Royal #10.
However, it often requires close external microphone placement, and may instead work better with a contact mic in some situations.
.
More Notes of a Typewriter Musician to come, with Royal #10 & Remington 7 Noiseless notes yet to spill.
- Pete Petrisko, of RPM Orchestra (link to facebook)